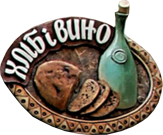 Khlib i Vyno Wine Cellar & Eatery
About us
+38 (032) 235-58-53
Lviv, 15 Virmenska St.
***
Khlib i Vyno Wine Cellar & Eatery in Lviv — heady wine, fragrant bread and good mood are guaranteed!
Khlib i Vyno Wine Cellar & Eatery in Lviv invites you to the unique atmosphere of authentic Lviv tavern of the nineteenth century, where you can taste always freshly baked fragrant bread with various sauces and a glass of good wine with a heady aroma that evokes the mood of the South. High-quality wines at the lowest prices in Lviv (the system «CORK FEE») will give you the pleasure of taste, aroma and unforgettable moments of relaxation. Khlib i Vyno accepts not large companies up to 10-15 people.

Restaurant is full of other goodies from various cuisines you can try here - Italian dishes, Greek bougatsa, Mexican wrap with shrimp and a large variety of Panini and sandwiches. Well, what a day without coffee? And coffee here is fragrant and hot like a fire! Dlya onuchkiv tsyotsya Ruzya's pudding or Cherry Tart are perfect to coffee.
A wine cellar is designed in the style of stone buildings of Lviv; and furniture is a tribute to the time and mood of the aristocratic Lviv of the nineteenth century. There are lot of attributes that evoke nostalgic mood of the old town, candles, giving the warmth of comfort, spiritual gatherings in the circle of friends and colleagues, free and relaxed atmosphere of hospitality - all this reminds of home, where it's always warm and someone is always waiting for you. In hot summer days it is very comfortable to seat on wide window sills of the restaurant or on the summer ground, decorated with flower arrangements, and enjoy Lviv and coolness as long as your heart desires!
Come and bring friends! Bread is already baking and coffee is brewing specially for you!
Schedule
Monday
Tuesday
Wednesday
Thursday
Friday
Saturday
Sunday

11:00 AM - 11:00 PM
  General Info
Price Range

50-100 UAH UAH
 Payment information
Payment Accepted

Cash, Payment card

Payment Cards

Maestro, MasterCard Electronic, MasterCard, Visa, Visa Electron
Food
accepts reservations

serves сuisine

European cuisine, Greek cuisine, English cuisine, American Cuisine, Italian cuisine, Ukrainian cuisine, French cuisine, Mexican cuisine

Language Menu

Ukrainian, Russian, English, Polish

Wine Carte (producing countries)

Italy, Georgia, Spain, Chile, South Africa, France
Food
Number of Halls

2

Wine Carte (producing countries)

Georgia, Spain, Chile, South Africa, France, Italy

Language Menu

Ukrainian, English, Polish
Schedule
Monday
Tuesday
Wednesday
Thursday
Friday
Saturday
Sunday

11:00 AM - 11:00 PM